Aculife Magnetic Wave Stimulator

Aculife Magnetic Wave Stimulator
Product Code: T09

The Aculife Magnetic Wave Stimulator works by pulsing a magnetic wave through acupoints in the palm and ear directly to the root of any energy blockages via the meridians in the body (on which acupuncture is based).
Magnetism has been used for centuries around the world to improve performance and recovery from illness and injury. Indeed, it is about as ubiquitous in Japan and the Far East as the aspirin is over here.
Major Functions

Detect acupoints location, the guidebook assists you locate the right acupoints positions easily.

Improving blood circulation, magnetic waves stimulate acupoints to improve blood circulation as traditional acupuncture.

Magnetism effects, magnetic waves magnetize body fluids to increase body's circulate system.

Health, effectively enhance circulate system.

Dual relieve methods, the palm acupoints combi and the ear acupionts combi can be applied in conjunction with others or separately.

Easy to operate, suitable for family and safe to use.

Light and portable, take it with you wherever you go.
Research over many years has also shown that the meridians surface on the soles of the feet, palms of the hand and the ears. The Aculife works by stimulating acupoints on the palm and ear simultaneously to affect the bodily organs and systems.
Obviously, the acupoints on the hands and ear are an excellent area from which to observe the state-of-Chi within the body because they are easily accessible and hygienic.
To detect the Aculife Magnetic Wave Stimulator sends out a short wave electric pulse through the acupoints on the hand and ear. Their state-of-Chi is measured in the form of a tingling or stinging sensation.
To Relieve it transmits the electric pulse on the same wavelength but at a different power, which stimulates the brain into producing more red and white blood cells and endorphins – the body's natural opiate.
The Protect bit comes from using the Aculife to strengthen and enhance the body's immune system, enabling it to be more efficient in fighting off disease and maintaining a healthy balance. This in turn enables it to provide a strong barrier to the constant bombardment of modern day living.
In other words the Aculife sends a magnetic pulse from the control areas on the palm or ear to the corresponding area in the body. This magnetic pulse helps unclog micro energy pathways improving blood circulation to help strengthen the immune system.
Use Aculife Magnetic Wave Stimulator anytime & anywhere!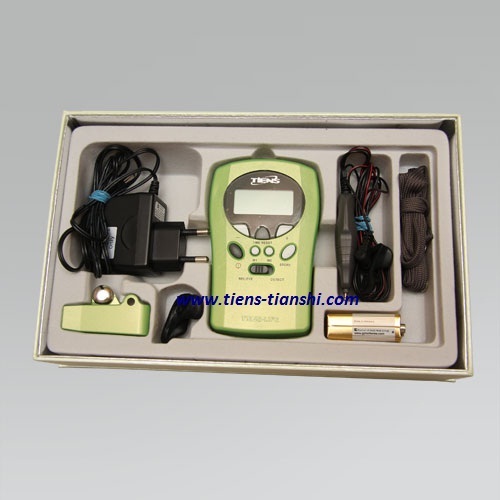 Tiens Equipment